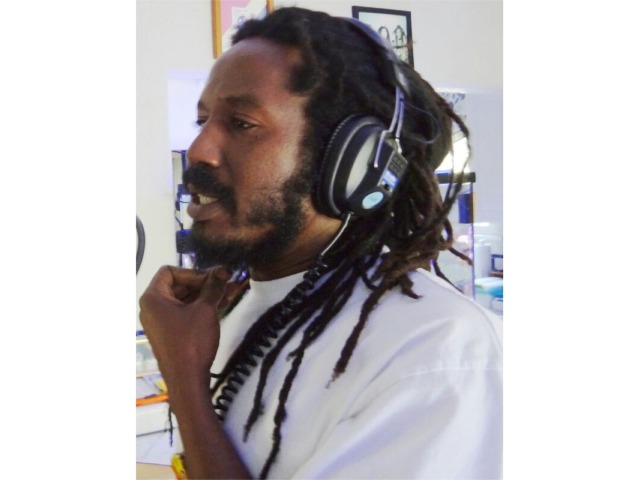 Born Ryan Thomas in Clarendon, Jamaica  April 5, 1971, Jahmali relocated to Kingston as a young man to attend community college and went on to teach before he began his singing career under the name of Junior T.  Although he came of age in the dancehall era, trying his turn at the Sound System mic in the late 80's and early 90's, his music always retained the conscious, cultural feel of the previous generation and his sound prefigured the coming roots revival.  He sang for Prince (later King) Jammy and Xterminator's Fatis (Philip Burrell) before achieving success with "I Am On A Mission" and "Wake Up" for Donovan Germain's Penthouse label, "Victory" on the Wine Of Violence riddim for Barry O'Hare's X-Rated label and "Lightning Brimstone and Fire" for Bobby Digital's Digital BN (also released on Brick Wall).  He continued with a series of 7″ singles including "Must Win" (John John, 1994), "Rock My Soul" (Fashion, 1996), "Left Nor Right" (Black Scorpio, 1998) and many more. A duet with Buju Banton was featured on the latter's Grammy-nominated Inna Heights in 1997.
His first album, El Shaddai (Penthouse, 1998), gathered top singles like "21st Century", "Cry People" and "Real Issues"  with message tunes like "Dry Bones", "Politics" and the uncompromising title track. It was followed by Treasure Box (Brickwall, 2000) which was produced by Bobby Digital featured songs like "Never Let A Good Thing Go", "Be Not Afraid" and "Expect A Fight". He also shared a combination album with Yami Bolo called Forces of Nature Volume Two (Brickwall, 2002).  He toured extensively and continued to record with  45's including "Onward" for Barry O'Hare's X-Rated Records,  "Let Love This Time" (Gargamel, 2000), "Ghetto Youth" (Kickin, 2001), "Poor Man's Strength" (Fireball), "Face the Challenge" (Psalms, 2002), "Give Thanks and Praises" on Cali Bud, "Only Love" for Mikey Spice's Ingredience label, "On Our Guard" (Rootdown, 2004),  "Stop I Can't" on 1st Foundation, "Uttering Lips" (Arrows, 2005), "Be Conscious" on Lion Vibes and many others on diverse labels such as Flash, Jam Style, and Royal Soldiers.
In 2014 Jahmali returns with his first full-length album in thirteen years, We I Open on the Reggaeland label.  Here you will find an artist whose youthful promise is fulfilled, his message matured and refined: a unique an engaging artist in his prime. With a sound and style as unique in all of reggae as it was when he first came on the scene, Jahmali is poised to carry the torch of a long line of classic reggae artists from Bob Marley and Dennis Brown through his contemporary Garnett Silk while bringing his own thoughtful and engaging perspective forward in this time.
Jahmali is currently working with acclaimed song-writer Anthony Rochester on some new projects.  Rochester, known for his brilliant collaborations with Garnett Silk has penned "Done Deal" for Jahmali, a song that is currently in rotation on number of stations world-wide.