MEET GHANA'S GRAMMY NOMINATED REGGAE SINGER ROCKY DAWUNI!
By Kevin Jackson
Rocky Dawuni—-
Ghanaian singer Rocky Dawuni achieved a career milestone last Sunday when his Branches of The Same Tree was nominated for Best Reggae Album at the 2016 Grammy Awards.
It goes up against albums by Barrington Levy, Jah Cure, Morgan Heritage and Luciano.
"It is a truly uplifting experience to be nominated for a Grammy. I am humbled by this symbolic recognition of African reggae," Dawuni told the
Jamaica Observer. "The ancestors of Jamaicans came mostly from Ghana and West Africa. As a Ghanaian musician the shared spiritual kinship brings it all back to our common roots in the Motherland. It is an honor."
Branches of The Same Tree was released in March by Vermont-based Cumbancha? Records. The 11-track set was recorded in Ghana and Los Angeles, where Dawuni is based. "It is a stylish album that fuses sounds of Africa with reggae music. I handled most of the production on the recording with the help of some of the most amazing musicians who have also worked with Ben Harper, Ziggy Marley and Michael Franti.  We worked with musicians including Ronnie 'Stepper' McQueen, a founding member of Steel Pulse, Michael Hyde, Rock Deadrick, Manas Itiene, Mark Sims, Anthony Brewster, Ijeoma Njaka, and Osei Tutu, among many others," said Dawuni.
Named one of Africa's Top 10 Global Stars by CNN, he has performed alongside Stevie Wonder and John Legend, and at venues such as The Kennedy Center in Washington, DC and the Hollywood Bowl in Los Angeles.
Born David Rocky Nendo Dawuni in northern Ghana, he is the second of eight children. While in university, he formed a band with friends called Local Crisis.
His debut album, The Movement, was released in 1996. It became a major success in Ghana, producing a number of hit singles including What Goes Around and Sugar.
International exposure first came through the 1998 Putumayo Records compilation,
Reggae Around The World, which featured his song, In Ghana.
In 2010, Dawuni recorded a cover of Bob Marley's Sun Is Shining for the label.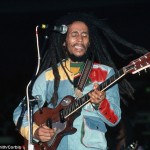 He has visited Jamaica several times. "I've been to Ocho Rios, Nine Miles (St Ann) and also stay in touch with some friends there, including my brothers in Cockpit Country. I am also friends with the Marley family and Rita Marley, who spends a lot of time in Ghana. We are the same people culturally, so I feel this is the great beginning for real cultural reconnection."